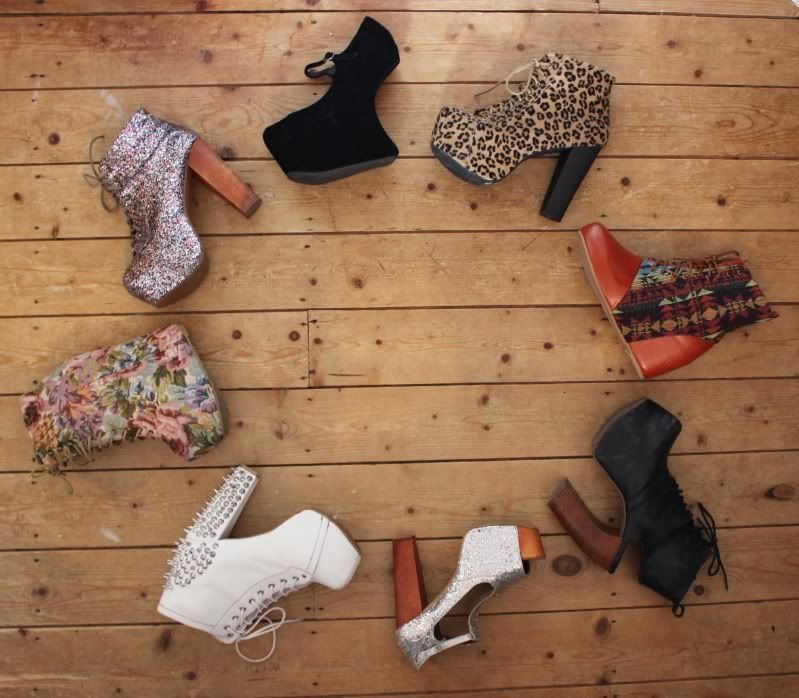 Ever since I became a teenager I have been a complete and utter shoe addict. I remember not being allowed to wear high heels and sneakily bought my first pair with my friend from Shoe Zone (earths cheapest, tackiest shoe shop). I remember exactly what they looked like, gross and stripper like, but for some reason I thought they were nice! As soon as I got home my mum went crazy and ordered me to return them asap!
After blogging for over a year now, I have of course fallen in love with the notorious Jeffrey Campbell. My collection started with a pair of Litas in multi glitter, and the obsession grew from there. I now have 8 pairs but I am still dying for more every time they release a new pair, which seems to be every couple of days!
So when I heard about the competition to become a
Sarenza
shoe ambassador, I couldn't turn down the opportunity! I love Sarenza, they have a great range of shoes and are really reasonably priced. A big plus for me is that they stock Jeffrey Campbell. This is great because it means I don't have to pay ridiculous customs charges to get them sent from the US.
Since my collection consists of only high heels, it is screaming out for a pair of flats. I have never really splashed out on a pair of flats before, as I feel casual shoes get worn a lot so always get tatty really quick. But I fell in love when I saw the "Beebee-F". They are so perfect, girly yet fierce and of course the big flatform will give me a bit of extra height, which is what I look for in a pair of shoes.
I often find myself planning a whole outfit round a pair of shoes. I think they make the outfit, so to me are very important. These shoes are quite loud so personally I would pair them with this t-shirt midi dress I have been lusting over for ever, it is so simple but would be the perfect addition to my wardrobe, and would compliment the shoes beautifully as it leaves just the right amount of leg on show. I've had my eye on this leopard print bag from Topshop for a while, and coincidently it is the exact same leopard print pattern as the Beebee-F shoes! I think they were made to be worn together!
Winning this competition would be the perfect opportunity for me. If I had to choose, I would rather buy shoes for the rest of my life and never buy an item of clothing again. I love them that much.