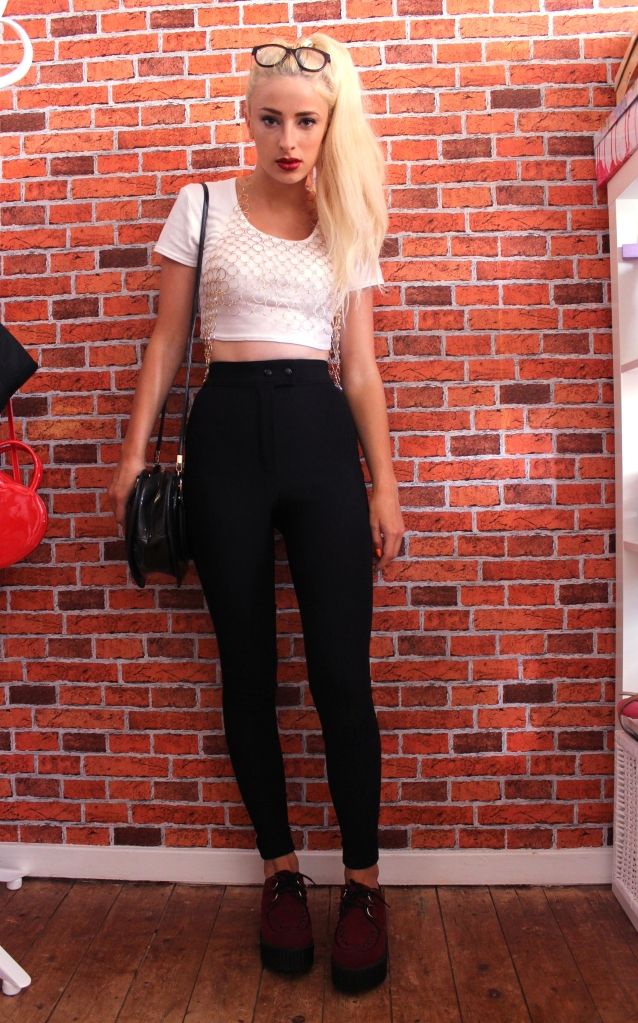 CROP TOP: Topshop, £8
RIDING PANTS: American Apparel via eBay, £45
SHOES: eBay, £15
BAG: Vivienne Westwood via eBay, £80
CHAINMAIL VEST: ASOS, £15
GLASSES: Primark, £2
LIPSTICK: Lime Crime "Glamour", gift from
Sheree
I did it, I finally stepped up into the world of YouTube! I have been watching all my fave YouTubers for nearly a year now, but never really thought of making my own videos. For a start, my voice is really childish, so I literally sound about 12! I find the whole "talking to myself/into a camera" thing really awkward and cringey, but i'm certainly gonna give it a go! So far i've filmed a bedroom tour, an
OOTD for this outfit
, and tomorrow i'll upload my daily make-up routine video.
EDIT: I did create a new channel to share with my friend but because of problems linking the account to Google & Blogger, i've decided to stay on my own personal channel. I'll still be making videos with my friend but will be using my channel
LULUTRIXABELLEx
to post them. We'll be making fashion videos together including charity shop/car boot sale hauls, OOTDs, "come shopping with us" and "how to style" videos, etc etc etc. It's all very exciting (and time consuming) but who knows where it will take me!
Today's outfit was pretty casual, I wanted to wear my new creepers which match perfectly with my Lime Crime lipstick that the lovely
Sheree from Glitz & Grime
sent me! Isn't she the cutest? I've had this chainmail vest for aaaaaaaaaaages and it's never been worn, so I thought i'd give it some love today.
Anyway, it's midnight and i'm tired, so better get off to bed.
Remember to
enter my giveaway
to win a vintage bag, and pleeeeeease
vote for me
in the Cosmo Blog Awards! I know I keep going on about it but I would be eternally grateful if you do!
Speak to you soon :)
Love Lucy x
Find LULUTRIXABELLE on:
Twitter // Facebook // Bloglovin // Lookbook // Shop