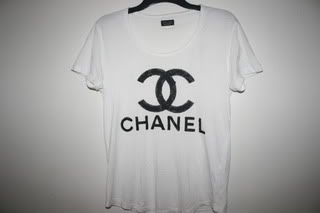 So this is my first tutorial and my gosh it is so easy :) Today I am going to show you how to make a fake Chanel t-shirt from an old one. In my case I stole one of my boyfriends old white ones but you can use whatever, it doesn't even have to be a t-shirt, it could be a jumper, shorts, anything. I made this last night and it took me a good hour and a half to make the template, but once you've made it, you have it forever and can re-use it as much as you want.
We will be turning this:
Into something like this: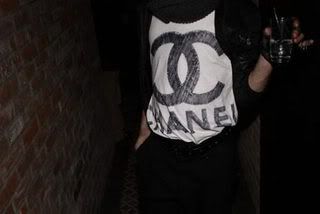 What you will need:
Plain white t-shirt

Print out of logo on paper

Pritt Stick

Craft knife

Cutting mat

Ruler

A4 sized book (to put inside t-shirt)

Black fabric paint (or whatever colour you want)

Small paintbrush or sponge (I used a paintbrush)

Masking tape
And that is all :) So here we go...
1) Search on the internet for the logo you want. I am using a Chanel logo I found on Google, but obviously you can adapt it to whatever logo you want to use. Print it on an A4 piece of paper (I printed it landscape so it was as big as possible).
2) Stick it to a piece of card with Pritt Stick. This makes it easier to cut out, and also tougher so you can re-use it. Get your ruler, craft knife and cutting board ready.
3) Using your ruler, cut around the letters. I would leave the "C" till last, as all of the letters except that are just straight lines. You will get used to using the knife and then once you get to the "C", just be careful and take it slowly and follow the lines. The trickiest bit is the big Chanel logo as it is all curves - again, take it slowly and it should be fine. Should you go wrong, just use masking tape to keep it together. Make sure you keep the inside piece from the "A" and the piece from the middle of the logo as you will need to paint round these. This part may take you a good couple of hours. But as I said, you can re use it, so you won't have to make another one.
(Excuse the crappy photo, I was trying to show cutting and take a photo at the same time!)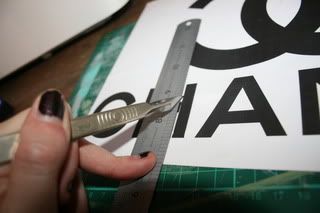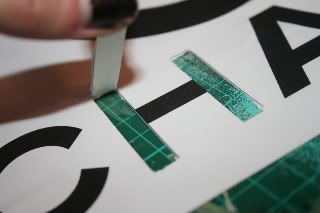 4) Once you have finished cutting out everything, get the pieces from the "A" and the logo that you put aside. Position them where they should be, and put a bit of masking take over one side of the letter to hold it in place. You will paint round it, wait for it to dry, remove the tape and paint round the other side. The edges of the letters might be a bit rough so make sure you tidy them up a bit:
5) Now to paint! So get some newspaper to protect the table, your paintbrush, fabric paint and a scrap piece of fabric. I practised on some denim and it came out okay so I went ahead and started on my t-shirt. To keep the surface flat and to prefent paint from seaping through, get an A4 sized book and put it inside the t-shirt directly under where you want your logo. I decided to put it at the top under the collar line, but where you position yours is down to you.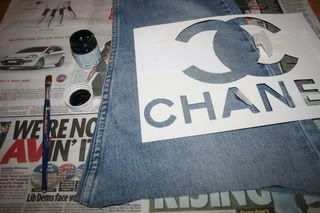 6) Place your template over the book underneath and make sure the t-shirt is completely flat. You might need to iron it before. Using masking tape, tape the template to the t-shirt to hold it in place. Now, go ahead and paint! Be careful as it may bleed through, but aslong as you hold the letters down as you paint they should come out okay. I used a paintbrush, but you could use a sponge or even spray paint. When you get to the "A" and the top logo, paint around the bit you have stuck down, then once it's dry, remove the tape and just hold the piece down with your fingers and carefully paint round it.
7) It shouldn't take too long to paint, so once it's done, leave the template on for a while so it can dry. Then carefully remove, and hang the t-shirt somewhere to dry. I left mine overnight. The fabric paint instructions say you should use an iron to seal the paint - this means you can wash it and it wont come off. So put a piece of greaseproof paper over the design and iron over it.
And that's it! Hope you find this tutorial helpful. If you like it please reblog! This is my final outcome: