You may have heard about the amazing competition Sheree at
GLITZ N GRIME
is holding for Next - win £500 worth of Next vouchers for a whole new summer wardrobe! What a fabulous opportunity, I could not say no to this!
Now I am not usually a Next kinda girl, I always found their clothes to be rather "grown up" and sophisticated for little old me! But saying that, over the years whenever shopping with my Mum (who is a big Next fan), I have always managed to pick up some lovely bits in there! I especially love their Runway shoes range - I have a pair with a fur trim which are my go-to winter heels.
Next have certainly stepped their game up! The summer collection really is one to watch, I am a lover of florals this season and they certainly haven't failed to produce a lovely selection of floral dresses. Not to mention the fabulous swimwear range!
I am off to Menorca with my boyfriend this summer, so £500 worth of vouchers would be absolutely perfect for stocking up on holiday clothes! I need to get myself some new bikinis this year - just look at these beauties! At just £28 a set they are not only on trend but very reasonably priced - and since this is Next we are talking about, you just know they will be amazing quality (compared to the cheapy Primark bikinis I usually buy, which only last for the duration of your holiday!).
Of course i'm NEVER gonna look that good in a bikini, what with my pasty skin which just burns and peels off :'(
I've put together a few holiday outfits that I would happily strutt around Menorca in...
Clashing prints - a perfect cover up for going to the beach in. I love maxi dresses right now as well as midi wedges. I could also shove all my beach bits in this gorgeous tan holdall - towel, lotion, a book, and food obvs!
This one I could see myself wearing out for lunch with my boy in the day time. I'm starting to wear heels in the day now, these ones aren't tooo high and I love the beading. They are perfect for a holiday! Again with the clashing print, but the colours of the bag go perfectly with the floral dress! I'd add a few bangles on each wrist and some feather earrings to complete this look.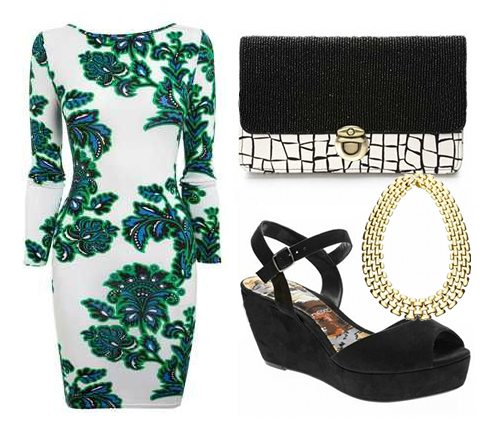 Last but not least the perfect evening outfit. I love love love this dress from the Geri by Next collection and think it would look fab with the chunky gold necklace!
Total cost for all 3 outfits: £348 - amazing! This gives me at least another £150 to spend on a few bikinis, jewellery, a couple pairs of shoes and maybe even a nice floppy sun hat! Check out these cute shoesies... aren't they lovely?
Wish me luck!!
Love Lucy
xoxo